What's New
Thanksgiving Day Mass Schedule
Thursday, November 28th
9:00 a.m. - Our Lady of Good Help, Hoquiam
9:00 a.m. - St. Jerome, Ocean Shores
9:00 a.m. - St. Paul, Westport
---
FORMED - Pick of Week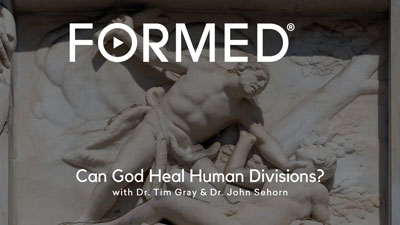 St. Giuseppe Moscati: Doctor to the Poor
Giuseppe Moscati, "the holy physician of Naples," as a medical doctor and layman in the early twentieth century who came from an aristocratic family and devoted his medical career to serving the poor. He was also a medical school professor and a pioneer in the field of biochemistry whose research led to the discovery of insulin as a cure for diabetes.
Moscati regarded his medical practice as a lay apostolate, a ministry to his suffering fellowmen. Before examining a patient or engaging in research, he would place himself in the presence of God. He encouraged his patients to receive the sacraments. Dr. Moscati treated poor patients free of charge, and he would often send someone home with an envelope containing a prescription and a 50-lire note.
When Mount Vesuvius erupted in 1906, Dr. Moscati evacuated a nursing home in the endangered area, personally moving the frail and infirm patients to safety minutes before the roof of the building collapsed. He also served beyond the call of duty during the 1911 cholera epidemic and treated some 3,000 soldiers during World War I.
Moscati was outspoken in his opposition to the unfair practices of nepotism and bribery that often influenced appointments at that time. He could have pursued a brilliant academic career, taken a professorial chair, and devoted more time to research, but he preferred to continue working with patients and to train interns.
Giuseppe Moscati died in 1927 at forty-six years old, was beatified in 1975, and declared a saint by Pope John Paul II in 1987. His feast day is November 16.
---
FORMED
Father Francis and our parishes are pleased to announce the coming of FORMED. Often referred to as the "Netflix for Catholics," FORMED by the Augustine Institute provides convenient mobile access to any FORMED subscriber FREE of charge.
To register, click the REGESTER NOW image on the home page, or visit https://ghcatholic.formed.org. After you register, you will have access to thousands of video-based study programs, movies, documentaries, audio talks, audiobooks and even eBooks on Demand. Let these materials facilitate your spiritual journey as you try to more fully understand, live and share your Catholic Faith.
---
An Advent Retreat
A Season of Hope
St. Mary Parish
Wednesday, Dec. 4th, 6:00 p.m. in the church
4 Heroes of Hope - Speaker: Fr. Stephen Rowan. Phd.
Thursday, Dec. 5th, 6:00 p.m., in the hall
Prepare for the person of Jesus - Video Rejoice with Joseph
Friday, Dec. 6th, 6:00 p.m.
Praise and worship, Mass, Benediction, anointing of the sick.
Confessions will be available all 3 days. There will be no other Penance service for Advent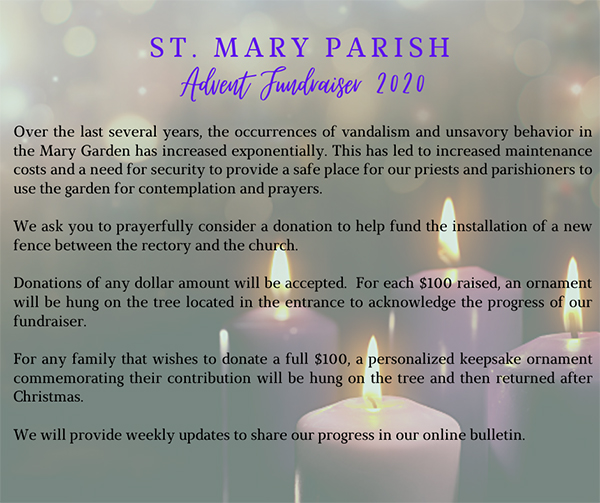 ---
Adoration of Our Lord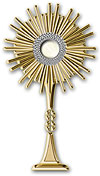 "We know that Jesus is there in the tabernacle: let us open our hearts to Him, let us rejoice in His Sacred Presence. That is the best prayer." (St. John Mary Vianney)
Eucharistic Adoraton:
St. Mary - Fridays, 9:30 to 11:00 a.m.
St. Mary - First Fridays, 9:30 to 5:30 p.m.
Our Lady of Good Help - Saturdays, 9:00 a.m. to 12:00 p.m.
St. Jerome - Thursdays, 9:30 to 10:30 a.m.
Our Lady of the Olympics – First Saturday of the month, 8:30 a.m. to 9:00 a.m.
St. Paul – First Thursday of the month, 8:30 a.m. to 9:00 a.m.
---
Called to Serve as Christ
A campaign for our priests, sisters and family of faith
"The Called to Serve as Christ campaign is an expression of our deep gratitude to those who have gone before us, especially our bishops, priests, and religious sisters, for the tireless ways they have lived out their vocations for the Lord and for us." J. Peter Sartain Archbishop of Seattle
Learn more about this campaign:
---
RCIA

The Catholic Faith is alive in the RCIA!
Do you know anyone interested in becoming a Catholic? Do you wish to continue to grow as a Catholic? Are you an adult who needs Confirmation?
Rite of Christian Initiation of Adults (RCIA) is on Wednesdays at 7:00 p.m. in the St. Mary Fireside Room.
For more information, contact Bonnie at 360-532-8300.
Catholic Media
Northwest Catholic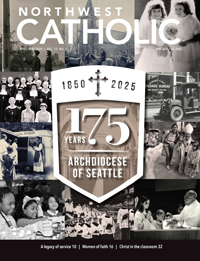 Northwest Catholic is more than just a magazine. It is the Good News of Jesus Christ delivered 10 times each year to every registered Catholic household in the Archdiocese of Seattle — more than 123,000. It is also Northwest Catholic online, the only Catholic news source with exclusive coverage of Catholic people and Catholic events in Western Washington.
Visit Northwest Catholic website at www.NWCatholic.org.
Read the latest issue of Northwest Catholic online
---
Mass for the Homebound

Heart of the Nation produces and televises a weekly Sunday Mass nationwide, providing compassionate spiritual care for Catholics unable to participate in holy Mass at a parish.
For the faithful who can't get to church because of the frailties of age, illness or injury, lack of transportation, or other struggles, Heart of the Nation Catholic Mass on TV and online offers a connection with the Lord Jesus and the community of faith.
For more information, please visit the Heart of the Nation website at:
www.heartofthenation.org
---
Sacred Heart Radio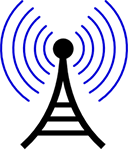 Catholic radio for the Pacific Northwest
Sacred Heart Radio is your local source for faithful Catholic voices In Seattle, Spokane, Yakima, Kodiak, and Olympia. You'll find inspiration, education and motivation 24 hours a day. Pray with us, reason with us, laugh and learn with us. We provide national programming from EWTN Radio as well as original, local programming.
Listen on your radio, your phone, or directly from the website:
www.SacredHeartRadio.org
AM 1050 Seattle
AM 1240 Olympia
---
Eternal Word Television Network
EWTN provides family friendly programs from a Catholic perspective. EWTN and EWTN Español includes Daily Mass, devotions, Catholic News, powerful documentaries, music, teaching series with noted theologians, live callin shows, young adult & children's programs, and major Papal events. You can visit EWTN online at: www.ewtn.com.
You can find EWTN on the following channels:
Comcast - Ch 233 (722 Español)
Direct TV - Ch 370
DISH - Ch 261
Coast Communications - Ch 280