What's New
Pastoral Review 2019 - Fr. Francis Arulappan HGN
The Archbishop of Seattle and his staff meet regularly with pastors to help them review their ministry. This feedback form is an important part of that ongoing review process in which I now invite you to participate. The questions are about the different ways I, as your pastor, have assisted in your formation as a disciple of Jesus. All of your responses will be held in confidence and the report prepared for me will not identify any individual. The only person who will see your name (which is requested at the end of the survey) is the Director of Research for the Archdiocese. I encourage you to fill out this short survey. The experiences you share will help us evaluate our parish life and leadership, my effectiveness as your Pastor, and will show how we can, together, become more effective followers of Jesus Christ.
In Christ,
Father Francis Arulappan, HGN
English Survey
http://26.selectsurvey.net/SeattleArchdiocese/FrArulappanHGN
Parish Council / Staff Survey
http://26.selectsurvey.net/SeattleArchdiocese/StaffConsultors19
---
Revisión Pastoral 2019 – Padre Francis Arulappan, HGN
El Arzobispo de Seattle y su personal se reúnen regularmente con los párrocos para ayudarlos a examinar su ministerio. Este formulario informativo forma una parte importante de ese proceso continuo de revisión en la que ahora les invito a participar. Las preguntas son sobre las diferentes maneras en que yo, como su párroco, he asistido en su formación como discípulo de Jesús. Todas sus respuestas serán confidenciales y el reporte preparado para mí no identificará a ninguna persona. La única persona que verá su nombre (que se pide al final de la encuesta) será el Director de Investigaciones de la Arquidiócesis. Les animo a llenar esta breve encuesta. Las experiencias que compartan nos ayudarán a evaluar la vida y el liderazgo de nuestra parroquia, mi efectividad como párroco y mostrará cómo, juntos, podemos convertirnos en seguidores de Jesucristo más efectivos.
En Cristo,
Padre Francis Arulappan, HGN
Spanish Survey
http://26.selectsurvey.net/SeattleArchdiocese/GraysHarborSpanish
---
FORMED
Father Francis and our parishes are pleased to announce the coming of FORMED. Often referred to as the "Netflix for Catholics," FORMED by the Augustine Institute provides convenient mobile access to any FORMED subscriber FREE of charge.
To register, click the REGESTER NOW image on the home page, or visit https://ghcatholic.formed.org. After you register, you will have access to thousands of video-based study programs, movies, documentaries, audio talks, audiobooks and even eBooks on Demand. Let these materials facilitate your spiritual journey as you try to more fully understand, live and share your Catholic Faith.
---
Called to Serve as Christ
A campaign for our priests, sisters and family of faith
"The Called to Serve as Christ campaign is an expression of our deep gratitude to those who have gone before us, especially our bishops, priests, and religious sisters, for the tireless ways they have lived out their vocations for the Lord and for us." J. Peter Sartain Archbishop of Seattle
Learn more about this campaign:
---
Lifetouch Picture Day is Coming Soon!
What to expect:
A professional photography session, no session fees.
View your images after your session and make your selections.
You will receive one free 8x10 standard print and directory.
You will have the opportunity to purchase additional photographs to share with family friends.
St. Mary
Schedule your appointment at:
https://booknow-lifetouch.appointment-plus.com/b0d38pjg/
Thursday 9/19/2019 1:00 - 8:00 pm
Friday 9/20/2019 1:00 - 8:00 pm
Saturday 9/21/2019 1:00 - 8:00 pm
Our Lady of Good Help & Our Lady of the Olympics
Schedule your appointment at:
https://booknow-lifetouch.appointment-plus.com/b0k1q9qe/
Saturday 9/28/2019 10:00 am - 5:00 pm
St. Paul
Schedule your appointment at:
https://booknow-lifetouch.appointment-plus.com/b0kyxe62/
Thursday 9/26/2019 1:00 - 8:00 pm
St. Jerome
https://booknow-lifetouch.appointment-plus.com/b0ep290q/
Friday 9/27/2019 1:00 - 8:00 pm
Appointments can also be scheduled at the regional office, please call 360-532-8300.
---
St. Mary Mass
St. Mary Church will be getting NEW carpet! Our Masses for September 23rd - October 7th will be held at Our Lady of Good Help at our regular Mass times. The exception is the Wednesday Mass which the St. Mary School students attend. This Mass will be held at St. Mary School.
---
Adoration of Our Lord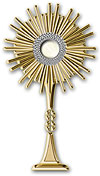 "Blessed are You, O God of the universe, Giver of all good gifts!"
Eucharistic Adoraton:
St. Mary - Fridays, 9:30 to 11:00 a.m.
St. Mary - First Fridays, 9:30 to 5:30 p.m.
Our Lady of Good Help - Saturdays, 9:00 a.m. to 12:00 p.m.
St. Jerome - Thursdays, 9:30 to 10:30 a.m.
Our Lady of the Olympics – First Saturday of the month, 8:30 a.m. to 9:00 a.m.
St. Paul – First Thursday of the month, 8:30 a.m. to 9:00 a.m.
---
Faith Formation
Our faith formation program for 2019-2020 is starting on September 15th for grades kindergarten through sixth grade. Class will be on Sundays from 11:00 a.m. - 12:15 p.m. Registration forms are available in the vestibule of your church and the regional parish office.
Our program is also seeking teachers and teacher aides. This is a great opportunity for students in need of community service hours!
For more information, contact the Regional Office at 360-532-8300 or faithformation@ghcatholic.org
---
RCIA

The Catholic Faith is alive in the RCIA!
Do you know anyone interested in becoming a Catholic? Do you wish to continue to grow as a Catholic? Are you an adult who needs Confirmation?
Rite of Christian Initiation of Adults (RCIA) is on Wednesdays at 7:00 p.m. in the St. Mary Fireside Room.
For more information, contact Bonnie at 360-532-8300.
Catholic Media
Northwest Catholic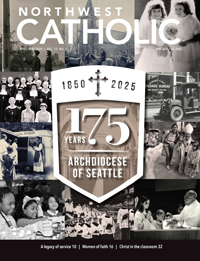 Northwest Catholic is more than just a magazine. It is the Good News of Jesus Christ delivered 10 times each year to every registered Catholic household in the Archdiocese of Seattle — more than 123,000. It is also Northwest Catholic online, the only Catholic news source with exclusive coverage of Catholic people and Catholic events in Western Washington.
Visit Northwest Catholic website at www.NWCatholic.org.
Read the latest issue of Northwest Catholic online
---
Mass for the Homebound

Heart of the Nation produces and televises a weekly Sunday Mass nationwide, providing compassionate spiritual care for Catholics unable to participate in holy Mass at a parish.
For the faithful who can't get to church because of the frailties of age, illness or injury, lack of transportation, or other struggles, Heart of the Nation Catholic Mass on TV and online offers a connection with the Lord Jesus and the community of faith.
For more information, please visit the Heart of the Nation website at:
www.heartofthenation.org
---
Sacred Heart Radio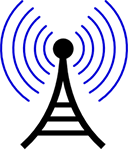 Catholic radio for the Pacific Northwest
Sacred Heart Radio is your local source for faithful Catholic voices In Seattle, Spokane, Yakima, Kodiak, and Olympia. You'll find inspiration, education and motivation 24 hours a day. Pray with us, reason with us, laugh and learn with us. We provide national programming from EWTN Radio as well as original, local programming.
Listen on your radio, your phone, or directly from the website:
www.SacredHeartRadio.org
AM 1050 Seattle
AM 1240 Olympia
---
Eternal Word Television Network
EWTN provides family friendly programs from a Catholic perspective. EWTN and EWTN Español includes Daily Mass, devotions, Catholic News, powerful documentaries, music, teaching series with noted theologians, live callin shows, young adult & children's programs, and major Papal events. You can visit EWTN online at: www.ewtn.com.
You can find EWTN on the following channels:
Comcast - Ch 233 (722 Español)
Direct TV - Ch 370
DISH - Ch 261
Coast Communications - Ch 280