What's New
Stewardship of Talent in Our Parish
Stewardship contributions are about more than money. The sharing of your time and talent are great ways to give. What are your gifts? What talents did God give to you that you are willing to share with others at our parish? Please prayerfully reflect on how you can use the talent God gave you in ministry to our Parish.
We invite you to list your gifts to let us know about a particular talent/gift/hobby you have that you may be willing to share from time to time. When we have a need in that area, we will give you a call and if you are able to assist us, then the match is made. If not, we'll keep you on the list and check back with you for a future need.
Please fill out one form for each family member that wants to volunteer or to lend a hand when there is a particular need. Thank you.
Talent and Ministry Pledge Form
---
La Corresponsabilidad del Talento en Nuestra Parroquia
Las contribuciones de corresponsabilidad son más que dinero. Compartir su tiempo y talento son excelentes formas de dar. Cuáles son sus dones? ¿Qué talentos le dio Dios que estás dispuesto a compartir con otros en nuestra parroquia? Reflexione en oración sobre cómo puede usar el talento que Dios le dio en el ministerio de nuestra parroquia.
Lo invitamos a enumerar sus dones para informarnos sobre un talento/don/pasatiempo en particular que tenga y que esté dispuesto a compartir de vez en cuando. Cuando tengamos una necesidad en esa área, lo llamaremos y si puede ayudarnos, se llevara a cabo. Si no es así, lo mantendremos en la lista y lo volveremos a llamar para alguna necesidad en el futuro.
Por favor, complete un formulario por cada miembro de la familia que quiera ser voluntario o ayudar cuando haya una necesidad particular. Gracias.
Promesa de Talento y Ministerio
---
Scam Alert!
It has come to our attention that someone is targeting Grays Harbor Catholic parishioners with an email SCAM. The person has emailed parishioners, impersonating Fr. Francis using a gmail address. The email asks for "assistance" and that you "email me as soon as you get this message." The scammer is attempting to deceive parishioners into responding and possibly sending monetary gifts. If you receive a suspicious email from any of our priests or staff, DO NOT RESPOND to it.
---
Current Mass Schedule
SATURDAY
Our Lady of the Olympics () at 9:00 a.m.
Our Lady of Good Help () at 5:00 p.m.
SUNDAY
Saint Paul () at 9:00 a.m.
Saint Mary () at 9:00 a.m.
Saint Jerome () at 11 :00 a.m.
Saint Mary () at 12:30 p.m. Spanish
Reservations are Required.
Please call 360-532-8300 Monday - Friday 1:00 - 4:00 p.m. or email the church you wish to attend for reservations. Reservations must be made before 4:00 p.m. on Friday.
The livestream Mass is on Sunday at 9:00 a.m. Please visit facebook.com/ghcatholic/
DAILY MASS
Daily Mass is at Saint Mary only Monday, Wednesday, and Friday at 9:00 a.m.
---
29th Sunday in Ordinary Time
---
St. Mary School
---
Let's stay connected!
Coffee with Judy
Have questions for Father Francis? Email them to regionaloffice@ghcatholic.org or call 360-532-8300.
Join us on Facebook on Mondays and Fridays for Coffee with Judy.
---
¡Mantengámonos conectados!
Manteniendo Nuestra Fe Viva
Envíe su preguntas para Padre Francis por correo electrónico a regionaloffice@ghcatholic.org o llame al 360-532-8300.
Acompañanos en Facebook los miércoles a "Manteniendo Nuestra Fe Viva"
---
FORMED - Pick of Week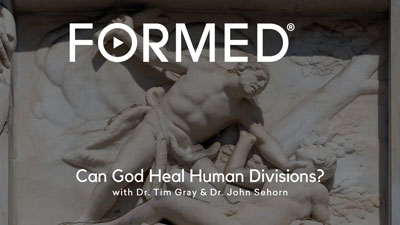 Lectio: Mary with Dr. Brant Pitre
Featuring the insightful biblical teaching of Dr. Brant Pitre, Lectio Mary: The Bible and the Mother of God examines what Scripture, the life of Christ, and the early Church fathers reveal about Mary. By closely examining the connections between the Old and New Testaments, Dr. Pitre presents clear and easily understood explanations about the life and identity of Mary, the Mother of God.
---
FORMED
Father Francis and our parishes are pleased to announce the coming of FORMED. Often referred to as the "Netflix for Catholics," FORMED by the Augustine Institute provides convenient mobile access to any FORMED subscriber FREE of charge.
To register, click the REGESTER NOW image on the home page, or visit https://ghcatholic.formed.org. After you register, you will have access to thousands of video-based study programs, movies, documentaries, audio talks, audiobooks and even eBooks on Demand. Let these materials facilitate your spiritual journey as you try to more fully understand, live and share your Catholic Faith.
---
Called to Serve as Christ
A campaign for our priests, sisters and family of faith
"The Called to Serve as Christ campaign is an expression of our deep gratitude to those who have gone before us, especially our bishops, priests, and religious sisters, for the tireless ways they have lived out their vocations for the Lord and for us." J. Peter Sartain Archbishop of Seattle
Learn more about this campaign:
---
RCIA

The Catholic Faith is alive in the RCIA!
Do you know anyone interested in becoming a Catholic? Do you wish to continue to grow as a Catholic? Are you an adult who needs Confirmation?
Rite of Christian Initiation of Adults (RCIA) is on Wednesdays at 7:00 p.m. in the St. Mary Fireside Room.
For more information, contact Bonnie at 360-532-8300.
Catholic Media
Northwest Catholic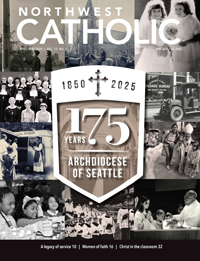 Northwest Catholic is more than just a magazine. It is the Good News of Jesus Christ delivered 10 times each year to every registered Catholic household in the Archdiocese of Seattle — more than 123,000. It is also Northwest Catholic online, the only Catholic news source with exclusive coverage of Catholic people and Catholic events in Western Washington.
Visit Northwest Catholic website at www.NWCatholic.org.
Read the latest issue of Northwest Catholic online
---
Mass for the Homebound

Heart of the Nation produces and televises a weekly Sunday Mass nationwide, providing compassionate spiritual care for Catholics unable to participate in holy Mass at a parish.
For the faithful who can't get to church because of the frailties of age, illness or injury, lack of transportation, or other struggles, Heart of the Nation Catholic Mass on TV and online offers a connection with the Lord Jesus and the community of faith.
For more information, please visit the Heart of the Nation website at:
www.heartofthenation.org
---
Sacred Heart Radio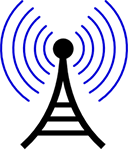 Catholic radio for the Pacific Northwest
Sacred Heart Radio is your local source for faithful Catholic voices In Seattle, Spokane, Yakima, Kodiak, and Olympia. You'll find inspiration, education and motivation 24 hours a day. Pray with us, reason with us, laugh and learn with us. We provide national programming from EWTN Radio as well as original, local programming.
Listen on your radio, your phone, or directly from the website:
www.SacredHeartRadio.org
AM 1050 Seattle
AM 1240 Olympia
---
Eternal Word Television Network
EWTN provides family friendly programs from a Catholic perspective. EWTN and EWTN Español includes Daily Mass, devotions, Catholic News, powerful documentaries, music, teaching series with noted theologians, live callin shows, young adult & children's programs, and major Papal events. You can visit EWTN online at: www.ewtn.com.
You can find EWTN on the following channels:
Comcast - Ch 233 (722 Español)
Direct TV - Ch 370
DISH - Ch 261
Coast Communications - Ch 280