Welcome to the Catholic Parishes of Western Grays Harbor
St. Mary, Aberdeen (map)
306 E. Third Street - 98520
Phone: 360-532-8300
email: stmary@ghcatholic.org
Our Lady of Good Help, Hoquiam (map)
200 L Street - 98550
Phone: Regional Office 360-532-8300
email: olgh@ghcatholic.org
St. Jerome, Ocean Shores (map)
15 Patrick Way, Hogan's Corner
P.O. Box 190, Ocean Shores - 98569
Phone: 360-289-2838
email: stjerome@ghcatholic.org
St. Paul, Westport (map)
Highway 105 at the Y
P.O. Box 332 - 98595
Phone: 360-268-9625
email: stpaul@ghcatholic.org
Our Lady of the Olympics, Quinault (map)
6121 US Highway 101, Amanda Park 98526
P.O. Box 165 - 98575
email: olo@ghcatholic.org
Phone: Regional Office 360-532-8300
Saturday
(fulfills the Sunday Obligation)
| | |
| --- | --- |
| 9:00 a.m. | Our Lady of the Olympics, Quinault |
| 5:00 p.m. | Our Lady of Good Help, Hoquiam |
| 5:00 p.m. | St. Jerome, Ocean Shores |
Sunday
| | |
| --- | --- |
| 9:00 a.m. | St. Mary, Aberdeen |
| 9:00 a.m. | St. Paul, Westport |
| 11:00 a.m. | Our Lady of Good Help, Hoquiam |
| 11:00 a.m. | St. Jerome, Ocean Shores |
| 5:00 p.m. | St. Mary, Aberdeen (in Spanish) |
Weekdays
9:00 a.m.
Monday
St. Mary, Aberdeen
9:00 a.m.
Tuesday
St. Jerome, Ocean Shores
12:00 p.m.
Tuesday
Our Lady of Good Help, Hoquiam
9:00 a.m.
Wednesday
St. Mary, Aberdeen
9:00 a.m.
Thursday
St. Paul, Westport
9:00 a.m.
Thursday
St. Jerome, Ocean Shores
12:00 p.m.
Thursday
Our Lady of Good Help, Hoquiam
9:00 a.m.
Friday
St. Mary, Aberdeen
First Friday
| | |
| --- | --- |
| 6:00 p.m. | St. Mary, Aberdeen (bilingual) |
Confession Schedule
Tuesday
8:00 a.m.
St. Jerome
Thursday
9:30 a.m.
St. Jerome
Friday
9:30 a.m.
St. Mary (First Friday)
Saturday
10:00 a.m.
Our Lady of the Olympics
Saturday
4:00 p.m.
OLGH & St. Mary - at OLGH
Saturday
4:00 p.m.
St. Jerome
Sunday
8:30 a.m.
St. Paul
Sunday
10:00 a.m.
St. Jerome
Sunday
4:00 p.m.
St. Mary (Spanish)
What's New
Burning of the Palms Mass and Celebration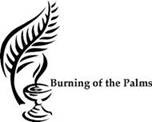 This year the Burning of the Palms Mass and Celebration will be at Saint Jerome Church in Ocean Shores on Tuesday, February 28th at 6:00 pm. A meal will be provided. Saint Mary, Saint Paul, Our Lady of Good Help, and Our Lady of the Olympics parishioners are asked to provide a dessert.
Needed - Palms from last Palm Sunday
Please bring your palms from Palm Sunday of last year to Mass next weekend. We are collecting them for the regional Burning of the Palms Mass & Celebration.
---
Ash Wednesday Mass Schedule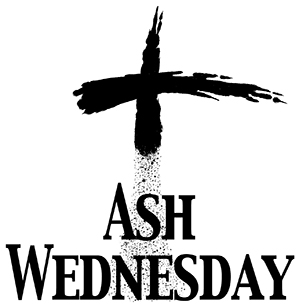 9:00 a.m. - St. Jerome, Ocean Shores
9:00 a.m. - St. Mary, Aberdeen
9:00 a.m. - St. Paul, Wesport
5:00 p.m. - Our Lady of the Olympics, Lake Quinault
5:30 p.m. - Our Lady of Good Help, Hoquiam
7:00 p.m. - St. Mary (Spanish), Aberdeen
---
Novena of Grace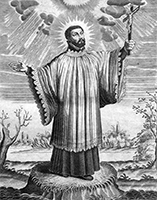 There will be a Novena of Grace in honor of Saint Francis Xavier, March 4th - 12th
Novena Schedule
Weekdays: Saint Mary Church at 6:00 pm
Saturdays: Our Lady of Good Help Church at 6:00 pm
Sundays: Our Lady of Good Help Church at Noon
---
Healing Mass
Special Novena Adoration & Reconciliation
St. Mary Church, March 22 - 30, 7:00 pm to 8:00 pm.
Healing Mass - March 31st
Reconciliation: 5:30 pm - 6:50pm
Stations of the Cross: 5:30 pm
Rosary: 6:20 pm
Praise and Worship: 6:40 pm
Holy Mass: 7:00 pm - 8:15 pm
Healing & Empowerment: 8:15 pm - 9:00 pm
---
Youth Ministry
The Youth Group would appreciate snack and drink donations. Donations can be dropped off at St. Mary's.
High School Youth Group (grades 9-12): meets Sunday, February 19th at 6:30 pm.
Middle School Youth Group (grades 6-8): meets Monday, February 27th at 7:00 pm.
Both groups meet in the youth room at St. Mary's.
Youth minister (Amanda Dupuis)
Phone: 360-532-8300 x104
Email: youthministry1@ghcatholic.org
---
RCIA

Do you wish to learn more about your faith? RCIA is the place to answer your questions.
Classes are on Wednesdays at 7:00 p.m. in the Fireside room at St. Mary Church. For more information please contact Bonnie Gilovich at 360-532-8300 or 360-533-3162
Catholic Media
New Sunday TV Mass for the Homebound

KVOS (MeTV) channel 12 at 6:00 a.m. This Christmas morning and every Sunday, Heart of the Nation will televise Catholic Mass at 6 a.m. on KVOS (MeTV) channel 12. Please share the time and channel information with friends or family members who are unable to get to church because of age, illness, or other struggles. Prayer intentions from viewers, uplifting homilies, a Prayer for Spiritual Communion during distribution of the Holy Eucharist, and closed-captioning make Heart of the Nation's Mass on TV and online a time of spiritual comfort and belonging for the homebound. To watch the Mass online, please visit www.heartofthenation.org
---
Eternal Word Television Network

EWTN provides family friendly programs from a Catholic perspective. EWTN and EWTN Español includes Daily Mass, devotions, Catholic News, powerful documentaries, music, teaching series with noted theologians, live callin shows, young adult & children's programs, and major Papal events. You can visit EWTN online at: www.ewtn.com.
You can find EWTN on the following channels:
Comcast - Ch 233 (722 Español)
Direct TV - Ch 370
DISH - Ch 261
Coast Communications - Ch 280
---
Sacred Heart Radio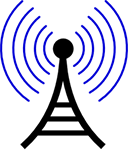 Catholic radio for the Pacific Northwest
Sacred Heart Radio is your local source for faithful Catholic voices In Seattle, Spokane, Yakima, Kodiak, and Olympia. You'll find inspiration, education and motivation 24 hours a day. Pray with us, reason with us, laugh and learn with us. We provide national programming from EWTN Radio as well as original, local programming.
Listen on your radio, your phone, or directly from the website:
www.SacredHeartRadio.org
AM 1050 Seattle
AM 1240 Olympia
---
Northwest Catholic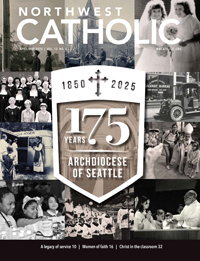 Northwest Catholic is more than just a magazine. It is the Good News of Jesus Christ delivered 10 times each year to every registered Catholic household in the Archdiocese of Seattle — more than 123,000. It is also Northwest Catholic online, the only Catholic news source with exclusive coverage of Catholic people and Catholic events in Western Washington. You can visit Northwest Catholic website at www.NWCatholic.org.