Welcome to the Catholic Parishes of Western Grays Harbor
St. Mary, Aberdeen (map)
306 E. Third Street - 98520
Phone: 360-532-8300
email: stmary@ghcatholic.org
Our Lady of Good Help, Hoquiam (map)
200 L Street - 98550
Phone: Regional Office 360-532-8300
email: olgh@ghcatholic.org
St. Jerome, Ocean Shores (map)
15 Patrick Way, Hogan's Corner
P.O. Box 190, Ocean Shores - 98569
Phone: 360-289-2838
email: stjerome@ghcatholic.org
St. Paul, Westport (map)
Highway 105 at the Y
P.O. Box 332 - 98595
Phone: 360-268-9625
email: stpaul@ghcatholic.org
Our Lady of the Olympics, Quinault (map)
6121 US Highway 101, Amanda Park 98526
P.O. Box 165 - 98575
email: olo@ghcatholic.org
Phone: Regional Office 360-532-8300
Saturday
(fulfills the Sunday Obligation)
| | |
| --- | --- |
| 9:00 a.m. | Our Lady of the Olympics, Quinault |
| 5:00 p.m. | Our Lady of Good Help, Hoquiam |
| 5:00 p.m. | St. Jerome, Ocean Shores |
Sunday
| | |
| --- | --- |
| 9:00 a.m. | St. Mary, Aberdeen |
| 9:00 a.m. | St. Paul, Westport |
| 11:00 a.m. | Our Lady of Good Help, Hoquiam |
| 11:00 a.m. | St. Jerome, Ocean Shores |
| 5:00 p.m. | St. Mary, Aberdeen (in Spanish) |
Weekdays
9:00 a.m.
Monday
St. Mary, Aberdeen
9:00 a.m.
Tuesday
St. Jerome, Ocean Shores
12:00 p.m.
Tuesday
Our Lady of Good Help, Hoquiam
9:00 a.m.
Wednesday
St. Mary, Aberdeen
9:00 a.m.
Thursday
St. Paul, Westport
9:00 a.m.
Thursday
St. Jerome, Ocean Shores
12:00 p.m.
Thursday
Our Lady of Good Help, Hoquiam
9:00 a.m.
Friday
St. Mary, Aberdeen
First Friday
| | |
| --- | --- |
| 6:00 p.m. | St. Mary, Aberdeen (bilingual) |
Confession Schedule
Thursday
9:30 a.m.
St. Jerome
Friday
9:30 a.m.
St. Mary (First Friday)
Saturday
10:00 a.m.
Our Lady of the Olympics
Saturday
4:00 p.m.
OLGH & St. Mary @ OLGH
Saturday
4:00 p.m.
St. Jerome
Sunday
8:30 a.m.
St. Paul
Sunday
4:00 p.m.
St. Mary (Spanish)
What's New
Baptismal Classes
Wednesday, August 26th and Wednesday, September 2nd at 6:00 p.m. in the fireside room. Please make sure to register at the parish office prior to August 26th
---
Youth Groups
Hello! My name is Allison Scalzitti the new Jesuit volunteer for the youth group this year. I will need a few volunteers to rotate sitting in on the youth group meetings, and volunteers to donate snacks for the youth meetings. For more information or to sign up contact me:
Phone: 360-532-8300 x104
Email: youthministry1@ghcatholic.org
Middle School
P.O.P. (People of Peace) will be meeting every Monday from 7:00-8:30 pm starting Monday, August 31.
High School
La Luz will have their first meeting on Wednesday, September 2 from 7:00-8:30 pm. In the past the high school youth met on Wednesdays but the night may change due to HS events. So if you have a night preference please contact Allison at the phone number or email address listed above.
---
RCIA
Interested in learning about the Catholic Faith or want to learn more about your faith? RCIA begins Wednesday, September 9th at 7:00 pm in the fireside room. We will be using a new program called Symbolon produced by the Augustinian Institute. To register or if you need more information call Bonnie Gilovich at 360-532-8300.
---
Faith Formation
The Faith Formation Program for the year 2015- 2016 will begin in the Fall for students in Kindergarten through the Fifth grade. Class times will be Sunday afternoons from 3:30 p.m. - 4:45 p.m. at St. Mary. In order to have an adequate number of text books please register your children now. There is a cost of $15.00 per book but the fee will be reduced or waived if it is a financial burden. Registration forms are available in the vestibule of your church.
For more information call the parish office at 532-8300.
Catholic Media
Eternal Word Television Network

EWTN provides family friendly programs from a Catholic perspective. EWTN and EWTN Español includes Daily Mass, devotions, Catholic News, powerful documentaries, music, teaching series with noted theologians, live callin shows, young adult & children's programs, and major Papal events. You can visit EWTN online at: www.ewtn.com.
You can find EWTN on the following channels:
Comcast - Ch 233 (722 Español)
Direct TV - Ch 370
DISH - Ch 261
Coast Communications - Ch 280
---
Sacred Heart Radio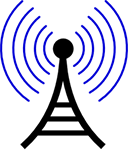 Catholic radio for the Pacific Northwest
Sacred Heart Radio is your local source for faithful Catholic voices In Seattle, Spokane, Yakima, Kodiak, and Olympia. You'll find inspiration, education and motivation 24 hours a day. Pray with us, reason with us, laugh and learn with us. We provide national programming from EWTN Radio as well as original, local programming.
Listen on your radio, your phone, or directly from the website:
www.SacredHeartRadio.org
AM 1050 Seattle
AM 1240 Olympia
---
Northwest Catholic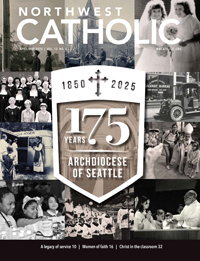 Northwest Catholic is more than just a magazine. It is the Good News of Jesus Christ delivered 10 times each year to every registered Catholic household in the Archdiocese of Seattle — more than 123,000. It is also Northwest Catholic online, the only Catholic news source with exclusive coverage of Catholic people and Catholic events in Western Washington. You can visit Northwest Catholic website at www.NWCatholic.org.