Mary, Mother of God (Fr. Vinner)
My Brothers and Sisters in Christ,
We celebrate the Feast of Mary, the Mother of God on New Year's Day, may I take this opportunity to wish you all a Happy and Peaceful New Year?  I pray that the Lord Jesus and His Mother Mary may enrich your lives during the New Year with an abundance of Divine blessings.  Today's Feast of Mary, the Mother of God is a very appropriate way to begin a new year, reminding us to rely on the powerful intercession of our Heavenly Mother. The Church also observes the World Day of Peace   and invites us to pray specially for lasting peace in the world throughout the New Year.
Today's first reading gives us the beautiful Divine blessing from the book of Numbers for the New Year, and the Responsorial Psalm (Ps 67) begs for that blessing. In the second reading, Paul reminds the Galatians and us that God's Son has become one of us through Mary and that it is through Him that we have become the children of God.  Today's Gospel describes how the shepherds spread to all their neighbors the Good News surrounding the birth of Jesus which the angel had revealed to them, and how Mary treasured "all these things" in her heart.  The Gospel also tells us that on the day of His Circumcision, the Child was given the name Jesus that had been chosen by God Himself.
Traditional belief and Church doctrine: We honor Mary primarily because God honored her by choosing her to become the mother of Jesus, the Second Person of the Holy Trinity, when He took on human flesh and became man, as stated in the Bible. The angel said to Mary: "You are going to be the mother of a Son and you will call Him Jesus, and He will be called the Son of the Most High."  After the angel had appeared to her and told her that she was to be the mother of Jesus, the Blessed Virgin Mary visited Elizabeth. At Mary's greeting, Elizabeth said, "Why should this great thing happen to me, that my Lord's mother comes to visit me?" [Lk. 1:43]. Hence, the Council of Ephesus affirmed in AD 431 that Mary was truly the Mother of God (Theotokos), and in AD 451, the Council of Chalcedon affirmed the Divine Motherhood of Mary as a dogma, an official doctrine of the Holy Catholic Church.
Life messages: 1) Let us strive to be pure and holy like our Heavenly Mother. All mothers want their children to inherit or acquire their good qualities. Hence, let us honor Mary, our Heavenly Mother, by practicing her virtues of Faith, obedience, purity and humble service.
2) Let us make the New Year meaningful by having every day a) some noble thing to dream, b) something good to do, and c) Someone to love, the first-person being Jesus. 
3) Let us sanctify every day of  the New Year: a) by offering every morning,  all the activities of the day for God's glory, thus transforming them into prayers, b) by asking for the anointing and strengthening of the Holy Spirit to do good to others and to avoid evil, c) by remaining faithful to our family prayers and Bible reading at night, d)  by asking God's pardon and forgiveness for our  sins committed  during the day and e) seeking God's special protection during the sleep.  Before we sleep, let us say, "Good night, Lord," repeating Jesus' last words from the cross, "Father, into Your hands I commend my spirit."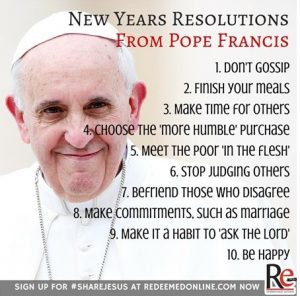 JOKE OF THE DAY
1) Dad's resolution: Last year when I called my parents to wish them a happy New Year, my dad answered the phone. "Well, Dad, what's your New Year's resolution?" I asked him. "To make your mother as happy as I can all year," he answered proudly. Then mom got on, and I said, "What's your resolution, Mom?" "To see that your dad keeps his New Year's resolution."
2) Someone once said…"I made 6 resolutions last year and I kept them all year long: they are in an envelope on the top of my file cabinet."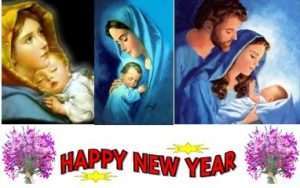 7 Ups for the New Year (Adapted fromRev. Walter Schoedel)
1) WAKE UP–Begin the day thanking the Lord. It is His day. Rejoice in it.
2) LOOK-UP–Open your eyes to the Lord Jesus. Ask for his strength and blessings for the day through the anointing of his Holy Spirit. After all, he is your only Savior.
3) DRESS-UP–Put on a smile. It improves your looks. It says something about your attitude. It enables Jesus living within you smile at others.
4) SHUT-UP–Watch your tongue. Don't gossip. Don't be judgmental. Say nice things. Learn to listen to others with love. Be sympathetic.
5) STAND-UP–Take a stand for what you believe. Resist evil. Do good. Have the courage of your Christian convictions by practicing what you believe. 
6) REACH-UP–Spend time in prayer by talking to God with your adorations, confessions, thanksgivings and supplications and by listening to Him through attentive reading the Bible and the application of its message to your life.
7) LIFT-UP–Be available to help those in need–serving, supporting, and sharing. Try to find Jesus in others and serve him there by serving them.
May God Bless us.
"Wishing you all Happy New Year -2019"
FR. S.Vinner HGN