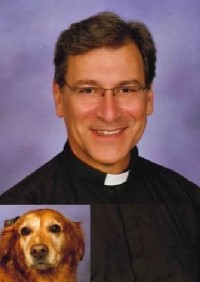 Hello Grays Harbor Catholics!
My name is Father Freitag. Born and raised in the great Pacific Northwest, I have four sisters, three brothers, and numerous nieces and nephews. I attended Our Lady of Fatima grade school, Queen Anne High School, and Gonzaga University. After college, I worked as an auditor for the accounting firm, Touche Ross. Two years later, I left to attend the University of South Carolina where I obtained a Masters in International Business. I then returned home to administrate Kenworth and Peterbilt truck sales (mostly loggers) in the Pacific Rim for PACCAR International.
After much prayerful discernment, I left PACCAR in 1991 to enter the pre-theology program at the Seminary of Christ the King in Mission, BC. I then attended Mundelein Seminary north of Chicago for four years of theological and pastoral formation. On June 8, 1996, Archbishop Murphy ordained me to the priesthood at St. James Cathedral.
For my first two assignments, I served as a Parochial Vicar: one year at St. Mary Magdalene, Everett, and two years at Sacred Heart and Assumption, Bellingham. In 1999, Archbishop Brunett named me Pastor of Our Lady Star of the Sea, Bremerton, where I served for nine years. He then sent me to Pastor St. Monica, Mercer Island, where I have served for the past thirteen years. Now, Archbishop Etienne is sending me to you as Regional Pastor responsible for overseeing the mission of the Church in all of Grays Harbor County.
Wherever I may be found on a given day, you may see a Golden Retriever following closely behind. That would be my companion in ministry, Sophia. She is nine years old and a bit shy but warms up quickly after a sniff or two of your shoes. Other than being with me, her greatest pleasures are eating anything chicken and swimming. Unfortunately, however, Sophia is not too fond of other animals, except perhaps for squirrels which should come as no surprise.
As for my personal interests, I enjoy walking Sophia while praying the Rosary, doing my own vehicle maintenance and upgrades, reading science fiction, and spending time with family and friends. I have a set of golf clubs and a fishing rod/reel but have not had the time or opportunity to use either the past several years. I also own a vacant lot in Ocean Shores where I like to go RVing with my sister and brother-in-law. Someday soon I hope to build a small home there to spend my time off and eventually retire as your Regional Pastor Emeritus.
By God's grace and your helping hands, I look forward to our many years ahead wherein we will faithfully proclaim and live out the Good News of our salvation through Our Lord Jesus Christ. May we always be assisted in our divine mission with the constant aid of Our Blessed Mother Mary, Our Lady of Good Help and the Olympics, as well as Saints Joseph, Jerome, John, Paul, and Dismas.
Yours in Christ,
Fr. Freitag
P.S. Just so you know, ever since my ordination twenty-five years ago, I have preferred to be addressed as Father Freitag (pronounced Freetag since WWI). Of course, most people just call me Father. Thank you.